ABOUT THE LLOYDMINSTER AQUANAUTS
Welcome to the Lloydminster Aquanauts Summer Swim Club website.
The Lloydminster Aquanauts were an active summer swim club from 1962 to the end of 2009.
The Aquanauts were members of the Alberta Summer Swim Association (ASSA), which is comprised of 6 regions and approximately 60 clubs.
Please peruse this website and the ASSA website for historical Aquanaut information.
For a list of active Alberta Summer Swimming clubs, please check the ASSA website.
You can read archived news articles about the Lloydminster Aquanauts Here.
(Thank you Meridian Booster)
LLOYDMINSTER AQUANAUTS GIRL'S RECORDS
(25m SHORT COURSE)
Girl's Short Freestyle

6 & U 25m

21.61

Lana Rogers

1992

7 & 8 25m

16.46

Lana Rogers

1994

9 & 10 50m

31.68

Jessica Kelly

2001

11 & 12 50m

28.42

Jessica Kelly

2003

13 & 14 50m

27.64

Jessica Kelly

2005

15 & 16 50m

28.22

Jessica Kelly

2007

17 & O 50m

28.15

Jessica Kelly

2008

Girl's Long Freestyle

6 & U 50m

50.49

Lana Rogers

1992

7 & 8 50m

38.23

Jessica Kelly

1999

9 & 10 100m

1:11.08

Jessica Kelly

2001

11 & 12 100m

1:04.45

Jessica Kelly

2003

13 & 14 100m

1:02.61

Jessica Kelly

2004

15 & 16 100m

1:03.94

Jessica Kelly

2006

17 & O 100m

1:07.70

Karen Adams

1982

Girl's Distance Freestyle

12 & U 200m

2:31.96

Heather Krissa

1998

13 & O 200m

2:28.19

Karen Adams

1982

12 & U 400m

5:36.16

Brianna Wells

2006

13 & O 400m

5:22.14

Keeley Mokelky

2007

Senior 800

10:59.33

Keeley Mokelky

2007

Girl's Short Butterfly

6 & U 25m

28.55

Britt Wells

2004

7 & 8 25m

17.84

Jessica Kelly

1999

9 & 10 25m

15.48

Jessica Kelly

2001

11 & 12 50m

31.24

Jessica Kelly

2003

13 & 14 50m

30.57

Jessica Kelly

2005

15 & 16 50m

30.33

Jessica Kelly

2007

17 & O 50m

30.89

Jessica Kelly

2008

Girl's Long Butterfly

14 & U 100m

1:09.19

Jessica Kelly

2004

15 & O 100m

1:08.65

Jessica Kelly

2008

Girl's Backstroke

6 & U 25m

25.93

Amanda Lux

1998

7 & 8 25m

20.10

Jessica Kelly

1999

9 & 10 50m

36.03

Jessica Kelly

2001

11 & 12 50m

32.78

Jessica Kelly

2003

13 & 14 100m

1:10.46

Jessica Kelly

2005

15 & 16 100m

1:07.09

Jessica Kelly

2007

17 & O 100m

1:08.07

Jessica Kelly

2008

Girl's Breaststroke

6 & U 25m

31.31

Brenna Dixon

1990

7 & 8 25m

22.72

Rebekah Cavanagh

2005

9 & 10 50m

43.95

Jessica Kelly

2001

11 & 12 50m

39.85

Joanne Armstrong

1981

13 & 14 100m

1:24.29

Hannah Classen

1994

15 & 16 100m

1:25.55

Jane Cavanagh

1996

17 & O 100m

1:23.50

Natasha Pidkowa

2006

Girl's Individual Medley

6 & U 100m

2:28.69

Jenna Campbell

2000

7 & 8 100m

1:43.02

Amanda Lux

2000

9 & 10 100m

1:25.16

Jessica Kelly

2001

11 & 12 100m

1:13.98

Jessica Kelly

2003

13 & 14 200m

2:36.21

Jessica Kelly

2005

15 & 16 200m

2:33.97

Jessica Kelly

2007

17 & O 200m

2:36.23

Jessica Kelly

2008

Girl's Medley Relay

7 & 8 100m

1:25.64

Jayne Roper
Stephanie McGladdery
Lana Rogers
Lindsay Smith

1994

9 & 10 100m

1:19.30

Stephanie McGladdery
Robyn Hnatuk
Lana Rogers
Lindsay Smith

1995

11 & 12 200m

2:39.77

Set at 1985 Provincials
Names not recorded

1985

13 & 14 200m

2:24.91

Jessica Kelly
Natasha Pidkowa
Haley Howland
Keeley Mokelky

2003

15 & 16 200m

2:19.60

Jessica Kelly
Haley Howland
Natasha Pidkowa
Keeley Mokelky

2004

17 & O 200m

2:17.53

Jessica Kelly
Natasha Pidkowa
Haley Howland
Keeley Mokelky

2007

Girl's Freestyle Relay

7 & 8 100m

1:19.03

Lindsay Smith
Jayne Roper
Stephanie McGladdery
Lana Rogers

1994

9 & 10 100m

1:09.83

Lindsay Smith
McGladdery
Robyn Hnatuk
Lana Rogers

1995

11 & 12 200m

2:21.35

Set at 1985 Provincials
Names not recorded

1985

13 & 14 200m

2:07.93

Haley Howland
Keeley Mokelky
Natasha Pidkowa
Jessica Kelly

2003

15 & 16 200m

2:03.90

Natasha Pidkowa
Keeley Mokelky
Haley Howland
Jessica Kelly

2004

17 & O 200m

2:04.57

Natasha Pidkowa
Haley Howland
Keeley Mokelky
Jessica Kelly

2007
LLOYDMINSTER AQUANAUTS BOY'S RECORDS
(25m SHORT COURSE)
Boy's Short Freestyle

6 & U 25m

22.08

Joseph Cavanagh

1997

7 & 8 25m

16.52

Greg Piper

1993

9 & 10 50m

32.95

Greg Piper

1995

11 & 12 50m

28.41

Greg Piper

1997

13 & 14 50m

26.90

Heath Williamson

1998

15 & 16 50m

26.72

Jesse Classen

1993

17 & O 50m

25.60

Jonathan Smyth

2006

Boy's Long Freestyle

6 & U 50m

56.88

Cory Totman

1995

7 & 8 50m

37.64

Greg Piper

1993

9 & 10 100m

1:12.89

Greg Piper

1995

11 & 12 100m

1:03.75

Greg Piper

1997

13 & 14 100m

1:00.22

Heath Williamson

1998

15 & 16 100m

58.32

Dwayne Lorenz

1985

17 & O 100m

55.11

Jonathan Smyth

2006

Boy's Distance Freestyle

12 & U 200m

2:26.21

Greg Piper

1997

13 & O 200m

2:04.09

Jonathan Smyth

2006

12 & U 400m

5:21.97

Jonathan Smyth

2000

13 & O 400m

4:29.88

Cory Totman

2008

Senior 1500

18:10.87

Cory Totman

2008

Boy's Short Butterfly

6 & U 25m

30.18

Joseph Cavanagh

1997

7 & 8 25m

19.48

Joseph Cavanagh

1999

9 & 10 25m

15.96

Keegan Rutherford

1997

11 & 12 50m

33.21

Greg Piper

1997

13 & 14 50m

29.72

John Eagle

1990

15 & 16 50m

29.80

Kevin Wallace

1993

17 & O 50m

28.52

Jay Stephenson

1985

Boy's Long Butterfly

14 & U 100m

1:15.12

David Cavanagh

1999

15 & O 100m

1:08.46

Cory Totman

2008

Boy's Backstroke

6 & U 25m

26.59

Darren Wallace

1993

7 & 8 25m

20.39

Grant McGowan

1984

9 & 10 50m

38.14

Greg Piper

1995

11 & 12 50m

34.29

Greg Piper

1997

13 & 14 100m

1:13.14

Shane Worman

1985

15 & 16 100m

1:09.20

Cory Totman

2005

17 & O 100m

1:03.20

Cory Totman

2008

Boy's Breaststroke

6 & U 25m

29.39

Joseph Cavanagh

1997

7 & 8 25m

22.11

David Cavanagh

1993

9 & 10 50m

42.25

Heath Williamson

1994

11 & 12 50m

38.79

Keegan Rutherford

1999

13 & 14 100m

1:15.64

Heath Williamson

1998

15 & 16 100m

1:11.86

Jesse Classen

1994

17 & O 100m

1:14.01

Jay Stephenson

1985

Boy's Individual Medley

6 & U 100m

3:00.23

Joseph Cavanagh

1997

7 & 8 100m

1:37.90

Joseph Cavanagh

1999

9 & 10 100m

1:24.05

Keegan Rutherford

1997

11 & 12 100m

1:13.41

Greg Piper

1997

13 & 14 200m

2:38.05

Dwayne Lorenz

1983

15 & 16 200m

2:31.64

Jesse Classen

1994

17 & O 200m

2:22.44

Cory Totman

2008

Boy's Medley Relay

7 & 8 100m

1:28.89

Colin McGowan
Grant McGowan
Greyson Weir
John Eagle

1984

9 & 10 100m

1:13.54

Andrew Pullman
Lief Sehn
Mark Anderson
Heath Williamson

1993

11 & 12 200m

2:34.42

Greg Piper
Heath Williamson
Aaron Flegel
Tyler Totman

1996

13 & 14 200m

2:15.44

Brayden Wells
AJ Mokelky
Joseph Cavanagh
Kory Chisholm

2005

15 & 16 200m

2:30.40

David Saunders
Darrell Nelson
Jay Stephenson
Abe Horton

1975

17 & O 200m

2:01.16

David Saunders
Darrell Nelson
Jay Stephenson
Abe Horton

1985

Boy's Freestyle Relay

7 & 8 100m

1:18.91

Colin McGowan
Grant McGowan
Greyson Weir
John Eagle

1984

9 & 10 100m

1:11.35

Brayden Wells
Brock Chisholm
AJ Mokelky
Kory Chisholm

2001

11 & 12 200m

2:13.05

Heath Williamson
Tyler Totman
Aaron Flegel
Greg Piper

1996

13 & 14 200m

1:56.95

Kory Chisholm
Joseph Cavanagh
AJ Mokelky
Brayden Wells

2005

15 & 16 200m

2:04.10

(Best Guess at
Team Members)
Dave Saunders
Hobie Horton
Dave Wonder
Brent Franks

1975

17 & O 200m

1:44.48

Jay Stephenson
Hobie Horton
Abe Horton
David Saunders

1985
TEAM PHOTOS
Do you have additional team photos we can post on this website? Please contact us at: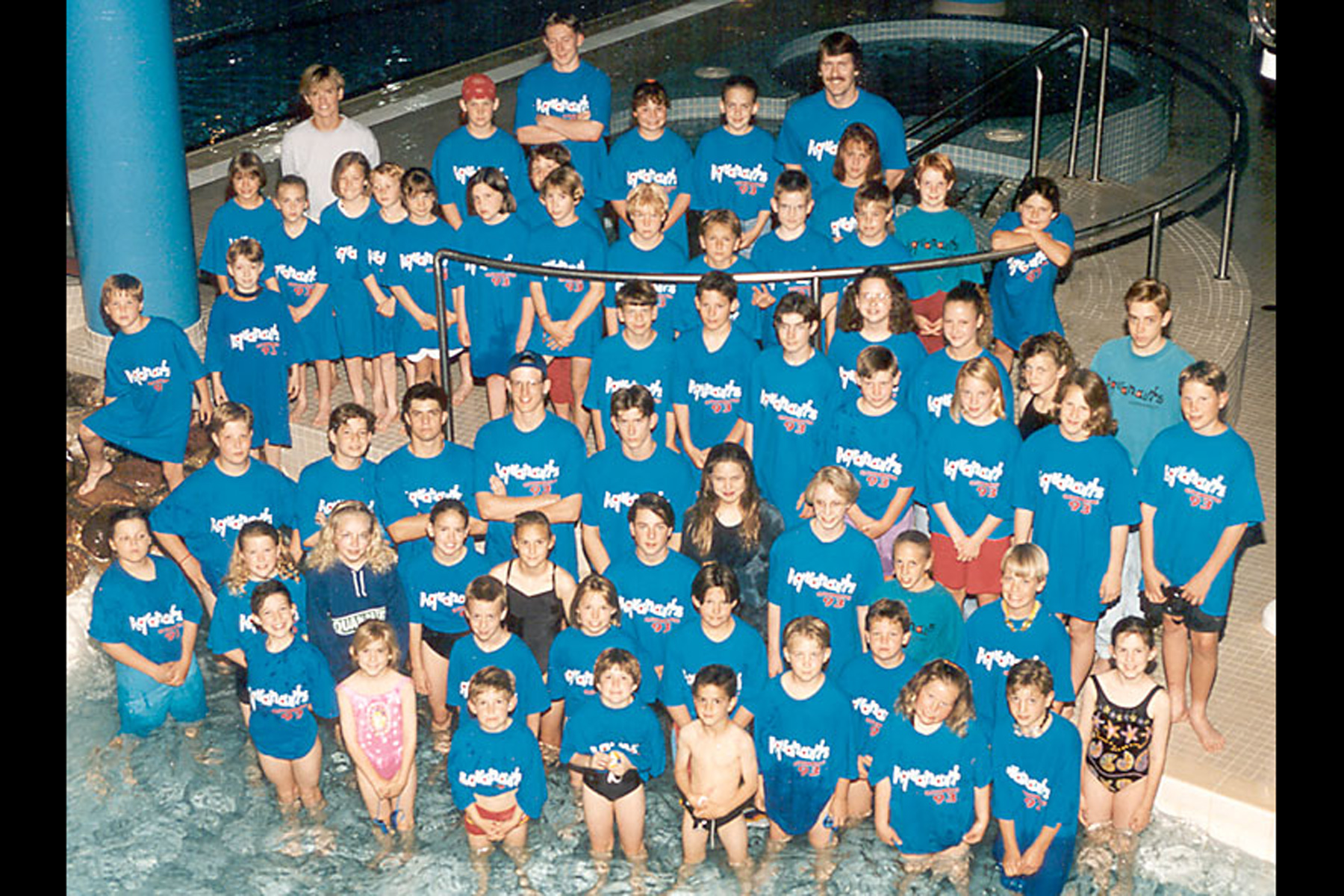 1993 Lloydminster Aquanaut Team Photo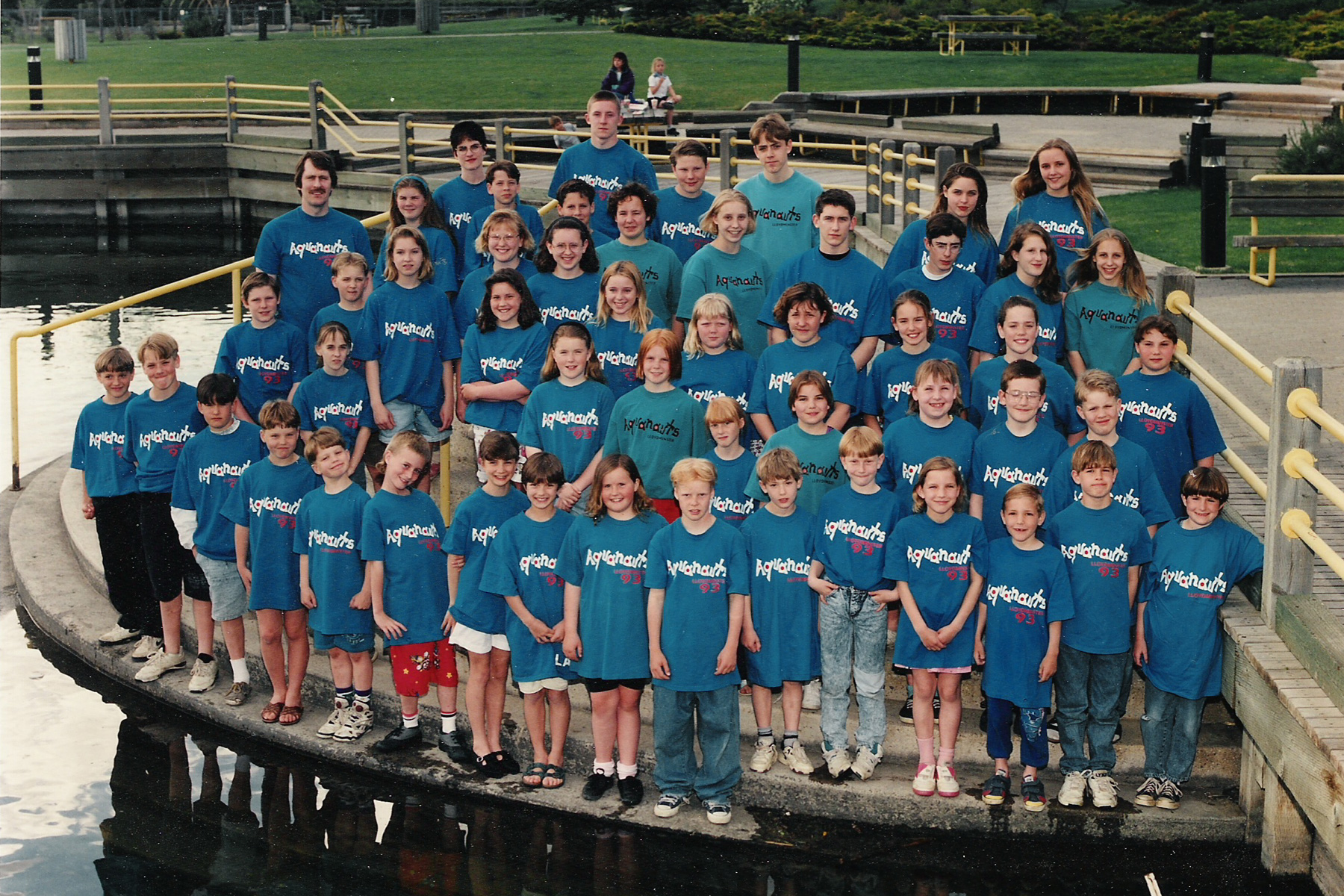 1994 Lloydminster Aquanaut Team Photo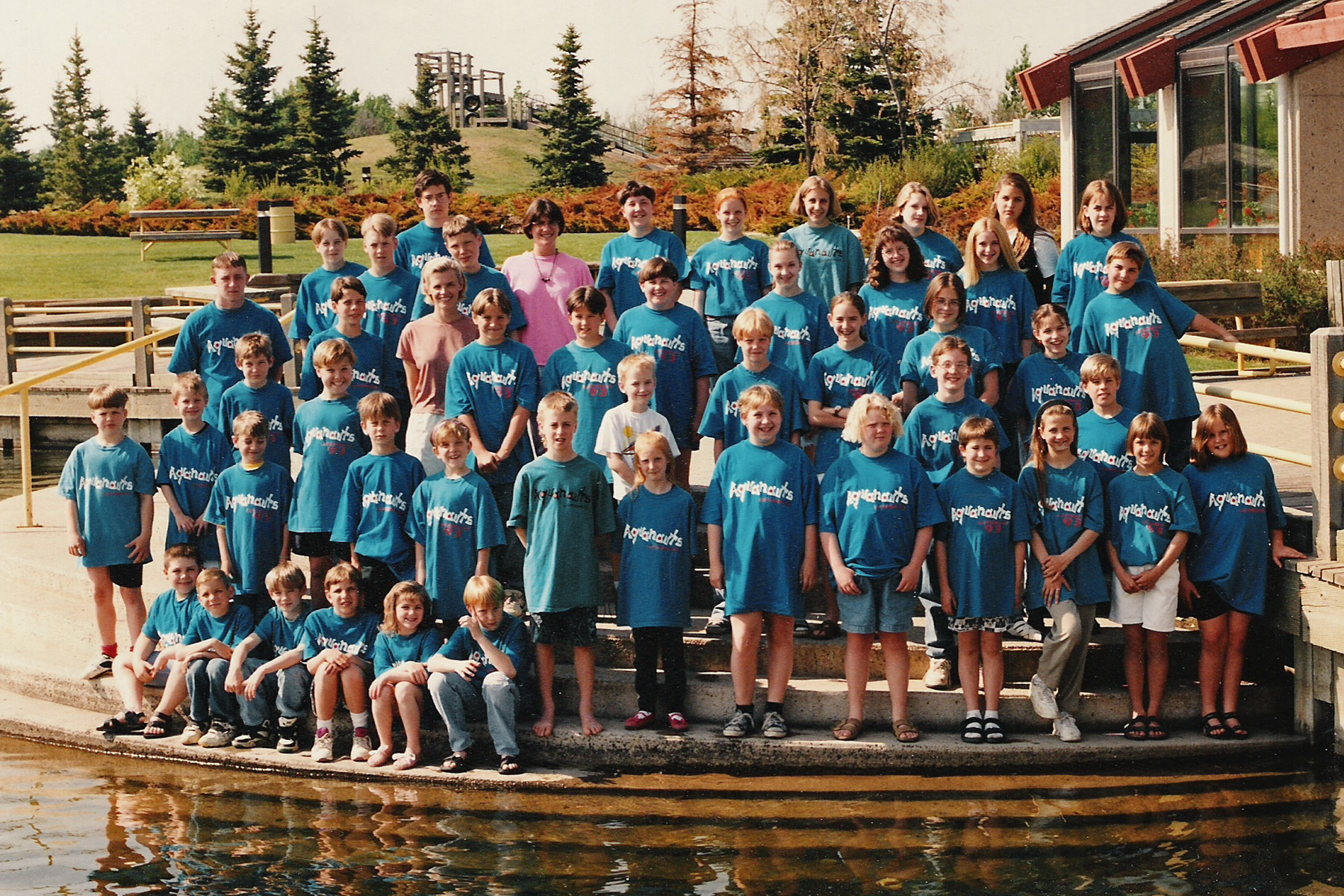 1995 Lloydminster Aquanaut Team Photo
1996 Lloydminster Aquanaut Team Photo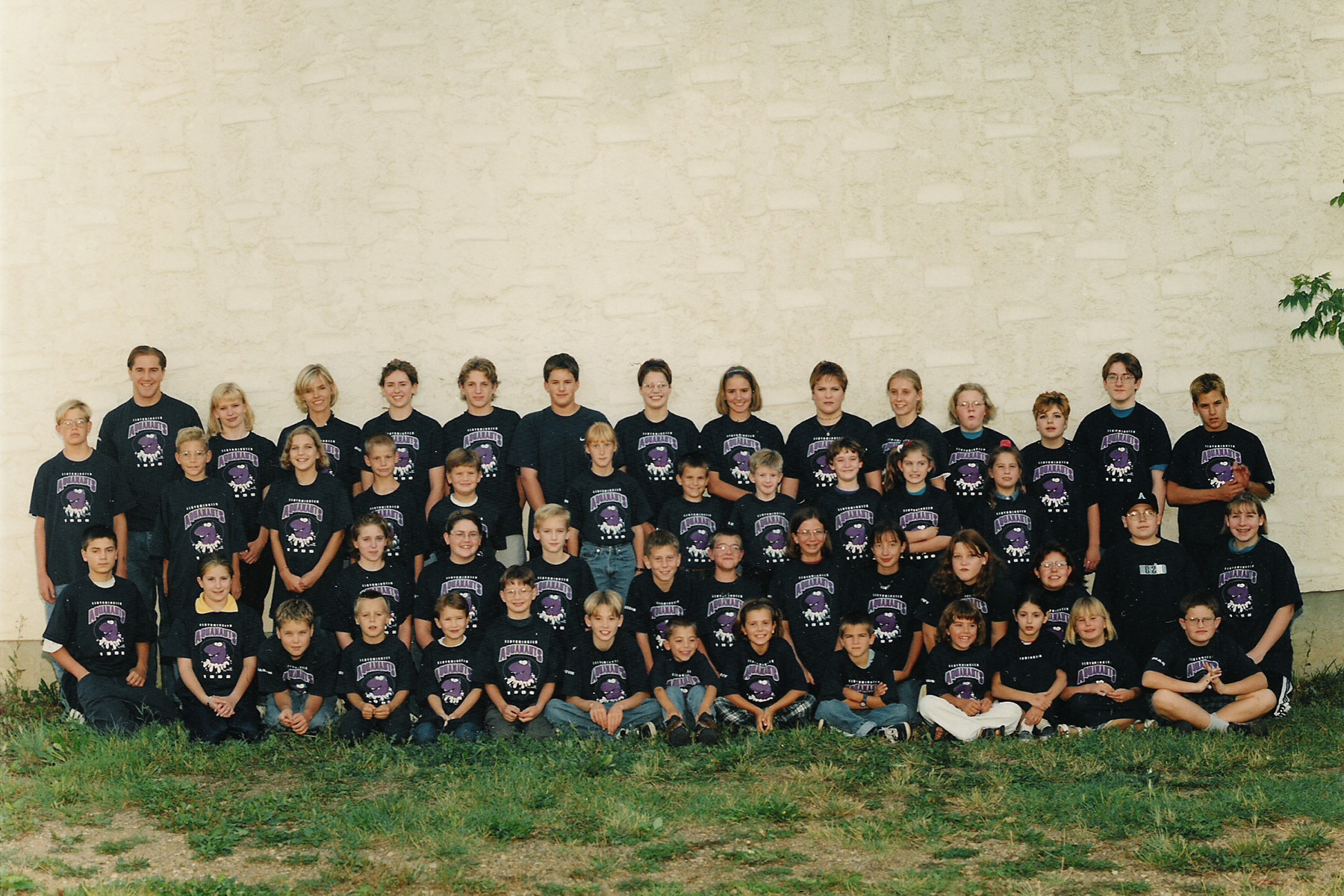 1997 Lloydminster Aquanaut Team Photo
1998 or 1999 Lloydminster Aquanaut Team Photo
2000 Lloydminster Aquanaut Team Photo
2001 Lloydminster Aquanaut Team Photo
2002 Lloydminster Aquanaut Team Photo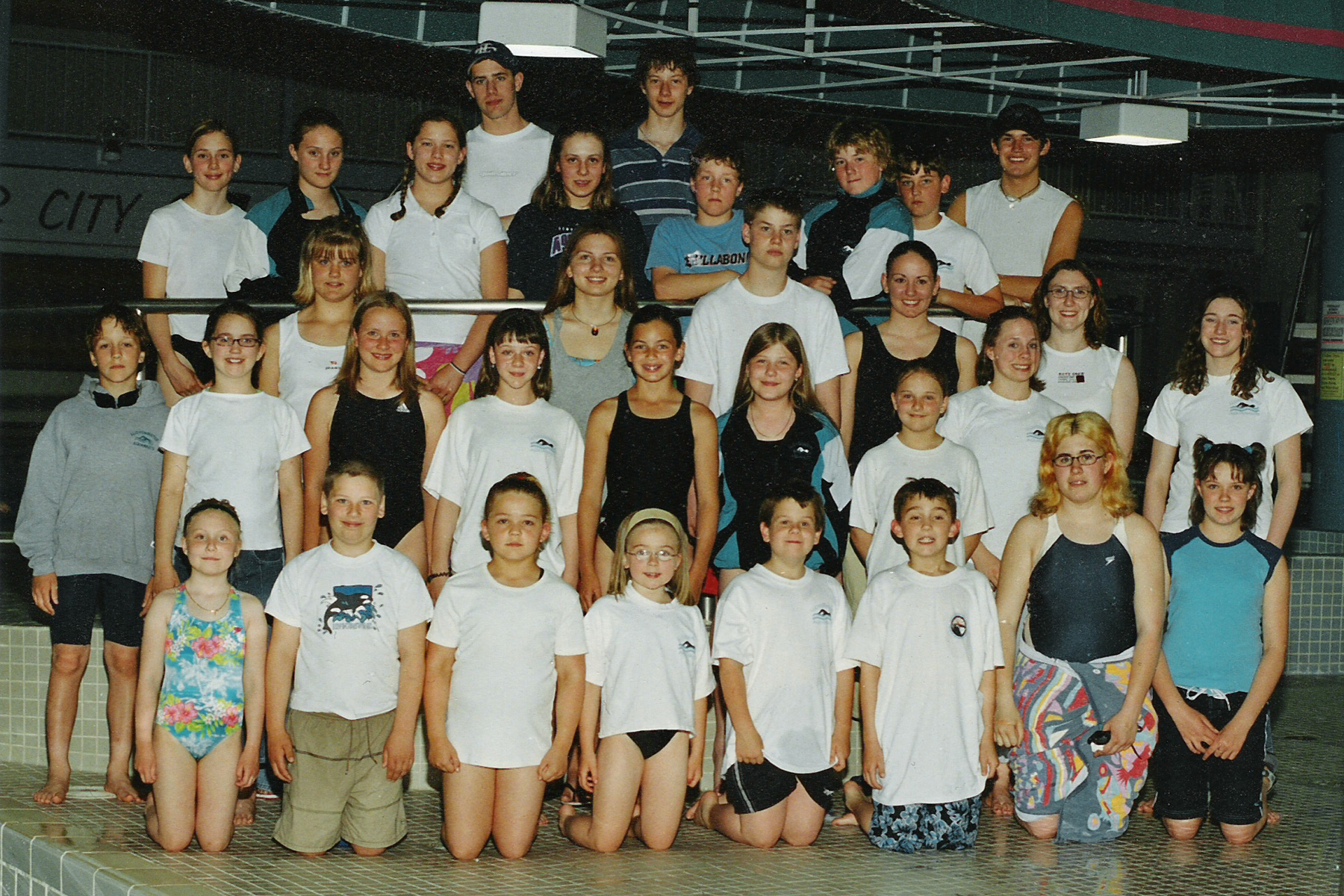 2003 Lloydminster Aquanaut Team Photo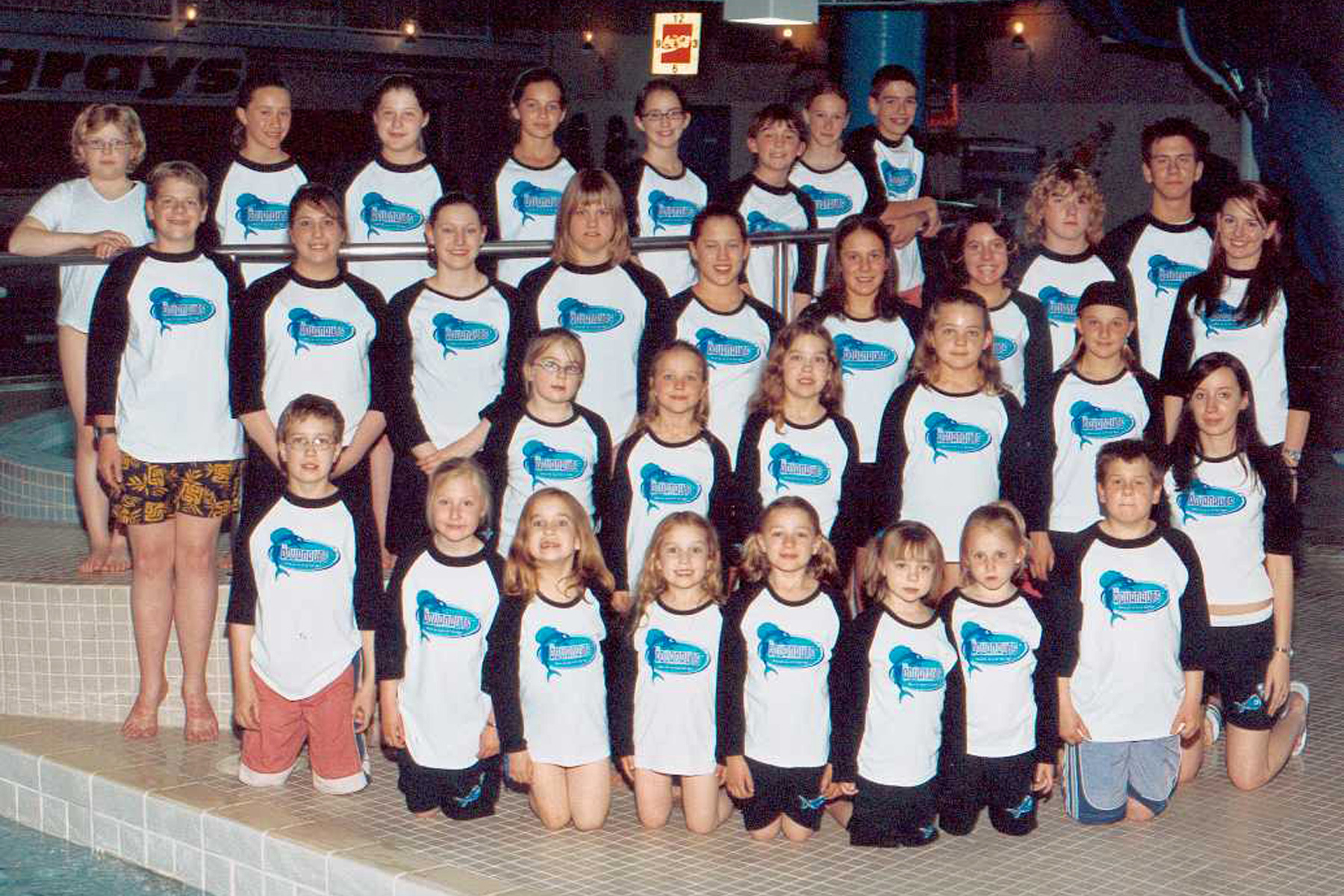 2004 Lloydminster Aquanaut Team Photo
2005 Lloydminster Aquanaut Team Photo
LINKS
The Alberta Summer Swimming Association website contains archived Lloydminster Aquanaut swimming data.
www.assa.ca